Rapid Protyping with 3D Printers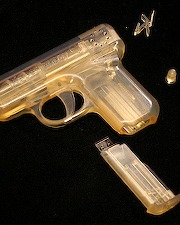 Future products may be developed not on the drafting board or even a CAD computer screen, but on three-dimensional "printers." A company called
3D Systems
has developed a system for producing prototypes that are elegant, completely functional, and that could not have been developed any other way.
Recently, the company teamed up with students from the
Design Products Department
of the Royal College of Art in London to put 3D prototyping through its paces. The group created games, toys and even a fully functional gun. A collection of photos of the prototypes is
available
on Flickr.
Source:
we make money not art