Run, Robot, Run!
A French-American research project has led to the development of
software for controlling a robot that can run on two legs like a human
, and maintain and even regain balance. The software has been applied to a robot called Rabbit, which is mainly a waist and two legs. Rabbit can walk and even run at speeds ranging from 5 to 12 KPH.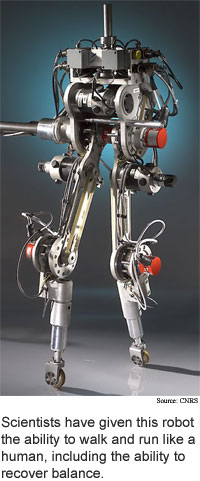 This research has important implications not just for independent robotics, but for developing prosthetic legs and devices to help brain-injury patient regain walking skills. Practical applications from this research could reach the marketplace in between 5 to 10 years.
Source:
Technology Research News