McDonald's Turns 50
Quick -- name five McDonald's jingles or slogans from years past! If you can do this in under thirty seconds, you quickly gain an appreciation for the impact that the fast food chain has had on our economy and culture.
This week's Friday diversion celebrates
the 50th anniversary of the Golden Arches
. This week in 1955, enterpreneur Ray Kroc became a franchisee of a new hamburger chain in California run by two brothers named McDonald... and the rest is history.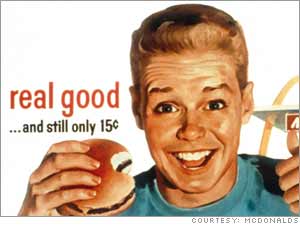 The following are highlights of some of the key moments in McDonald's
history
:
1948

-- The McDonald brothers open their first restaurant in San Bernardino, California

1955

-- Ray Kroc buys in

1962

-- "Golden Arches" adopted as trademark


1963

-- Ronald McDonald appears on TV for the first time

1965

-- McDonald's goes public

1967

-- First restaurants opened outside the US (in Puerto Rico)


1968

-- The Big Mac is added to the menu

1970

-- McDonald's restaurants are in every US state

1973

-- Breakfast is served with the introduction of the Egg McMuffin

1974

-- First Ronald McDonald House opens, in Philadelphia

1975

-- First drive-thru opens


1979

-- Happy Meals introduced

1984

-- Ray Kroc dies


1985

-- McDonald's added to the Dow Jones Industrial Average


1990

-- In an environmentally friendly move, most plastic and foam packaging is eliminated

2002

-- Salads added to the menu

2003

-- The "mystery meat" in Chicken McNuggets replaced with 100% all-white meat

2004

-- In response to a health backlash, "Super Size" menu items eliminated
One factor that's contributed to McDonald's long-term success is its ability to get out in front of emerging trends early and capitalize on them (or counter negative trends before they became problems). Once McDonald's realized that kids were the backbone of their business -- and when the Baby Boomers started families -- Happy Meals and playgrounds appeared. As the 24/7 society emerged, more outlets began staying open round-the-clock. And as their customer base became more environment- and health-conscious, so too did the Golden Arches.
Today, Mickey D's is doing all right financially, and is focusing on improving its existing outlets rather than expanding (after Russia and China, where else is there to go?). Improved food quality, amenities such as WiFi Internet access, and payment via "contactless" Mastercard are all on the menu, so to speak. Yet challenges lie ahead; increased competition, management turnover and the continued threat from obesity-related lawsuits could all leave a bad taste in investors' mouths.
Source: CNN/Money