Firefly Develops Cell Phone for Kids
Last week we discussed how
more kids were wanting and getting cell phones
. Now, a startup called
Firefly Mobile
has developed
a cell phone specifically designed for young children
.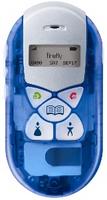 The phone, which uses a prepaid calling plan, has simplified design; no games or text messaging capability; has speed dial buttons for Mom, Dad and 911; and can only dial those numbers that parents program into it. The phone is also smaller than a regular cell phone, fitting more comfortably into a child's hands.
The Firefly phones are scheduled to go on sale through the
Firefly website
in May, and at Target stores this summer.
Sources: Designtechnica, MobileTracker